You want to maximize the growth and make the most of the marketing dollars spent generating business for your plumbing company. That is exactly what we are focused on. We have helped countless businesses in the skilled trades generate leads, create a more professional digital brand, and develop a more seamless sales process. We have done all this while lowering the costs of acquiring those valuable leads. 
We want to share this knowledge with your plumbing business. Here are five areas of digital marketing that will become the cornerstone of an effective strategy to increase brand awareness and generate qualified leads for your plumbing business.
1. Robust Google Business Profile
If you don't have a Google Business Profile (formerly Google My Business), you need to claim yours today. It is a free service that lets you provide more information about your plumbing company when people search for your services. It is a critical step in getting found by local searchers. 
Your Google Business Profile builds your reputability. Customers are 2.7 times more likely to consider a business credible if they find a complete Google profile. It increases the likelihood they will choose your service by 50%. These numbers can't be ignored. You need a professional profile. 
To really take your profile to another level of professionalism, these are five elements that your plumbing business' Google Business Profile needs. 
NAP Information: NAP is the basic info like your business name, address, and phone number. The information you enter in your Google Business Profile must match what you have on your website. Google walks you step by step through the process. Here is the first screen to greet you.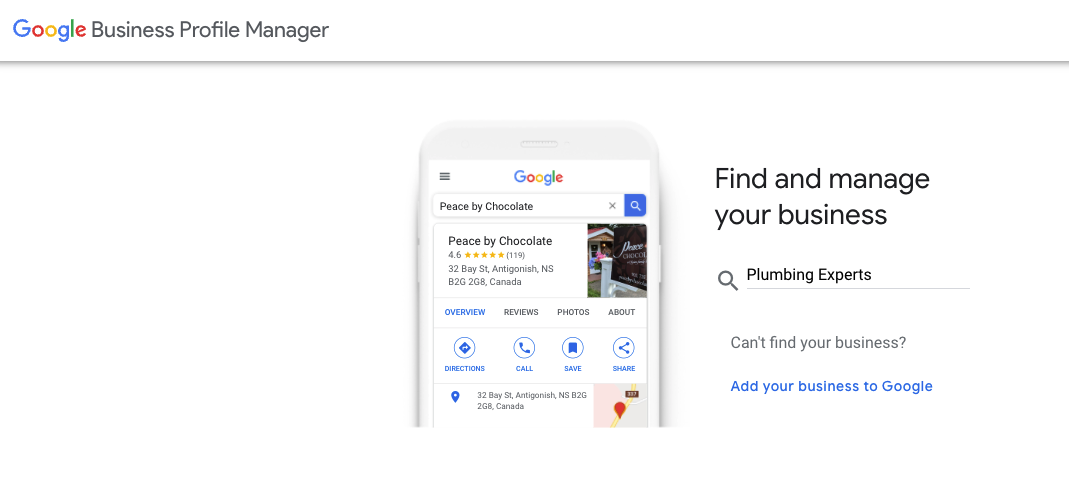 Hours of Operation: Your customers want to know when you are open and when they can call you. Ensure that your hours of operation are accurate and up to date. You can update the hours for holidays and seasonal closures.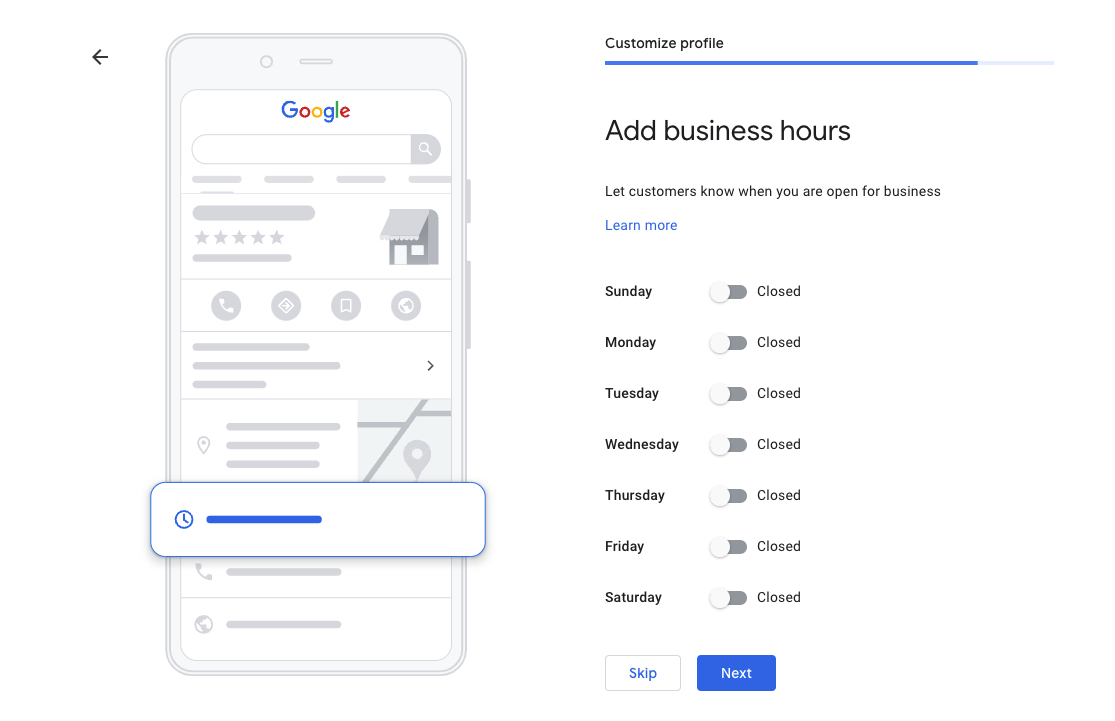 Images: Google wants to show users your logo, location, and pictures of your business. To best showcase your business, use professional photos of your business. We recommend having your first image as your logo, followed by your business. This can include images of your office, workers on-site, and the finished project when the work is done.
As you can see below, Google also allows you to share videos of your business. Videos can be up to 30 seconds long and give searchers a sense of what to expect.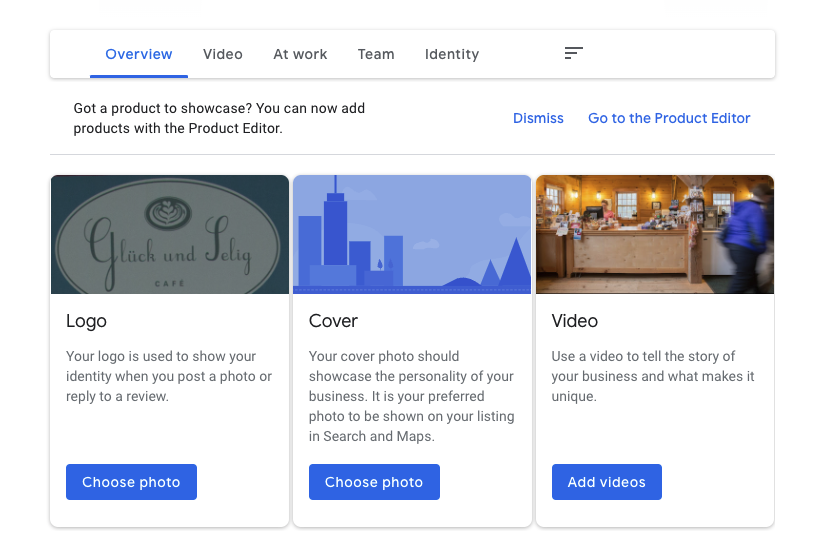 Reviews: Online reviews matter. 93% of consumers say that Google Reviews impacted a buying decision. You need a Google Review building strategy if you don't already have reviews. 
Look at your competitors. How many Google Reviews do they have? What is their average Google review rating? Your goal should be to have more reviews and have a higher average review rating. 
Google makes it easy to create a link for your customers to write reviews on Google. Make it part of your process to send a Google Review link to your customers after you have completed a job. 
Another reason to get more reviews is that they are key for running local service ads (which we'll talk about a little later).
Services: Your Google Business Profile allows you to list the services you offer. Be sure to populate all of the services you offer. Google even provides you with suggestions. Since you are a plumber, they suggest things like "repair toilet" and "install shower". See the image below for examples.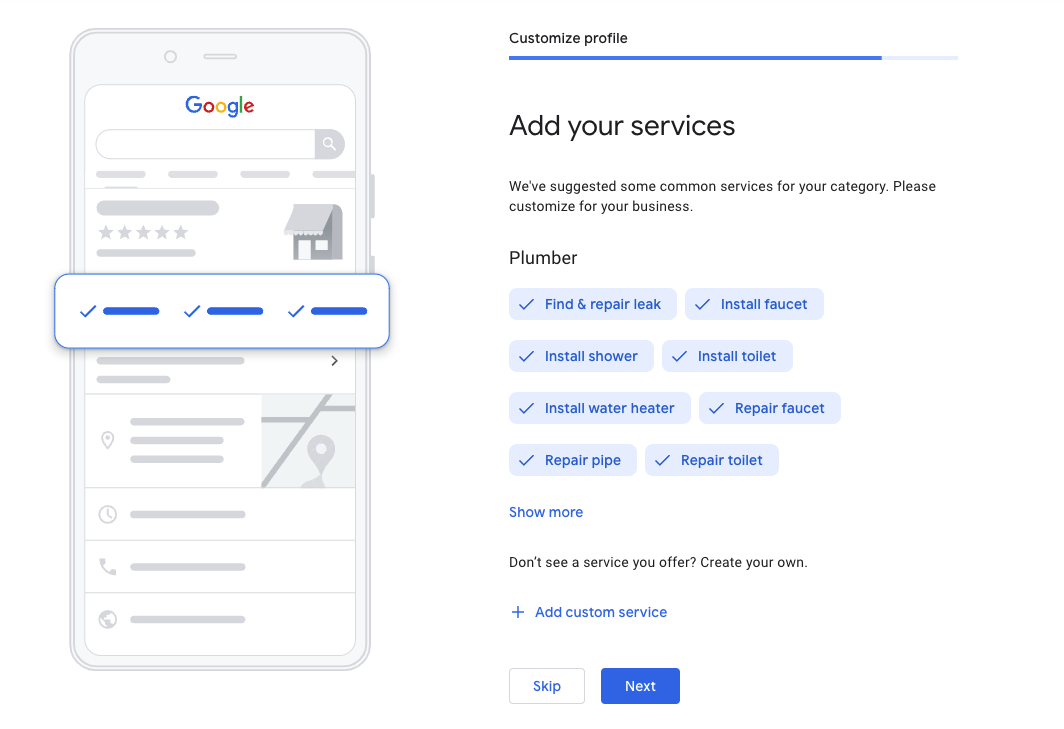 As you can see, it is pretty crucial to get your Google Business profile done. If you need support, we can help. 
2. Search Engine Optimized Website
Think of your website as a member of your sales team—one that is working around the clock. 
But before your website can work for you, potential clients need to find it. That's why ranking on the first page of Google search results is essential. This is where Search Engine Optimization (SEO) comes into play.
You may have heard the term SEO. All it means is doing the right things to increase your website's chances of ranking on Google. By doing it well, you will increase your odds of getting in front of customers, helping you boost leads, and keeping your team busy with service calls. 
Find the Right Keywords: Of course, you want to get on the first page of Google results for the right words—the terms searchers are using to find your plumbing services. These search terms are called keywords. 
Keyword research determines the words that your potential clients use to find your services and their monthly search volume. Let's say you are in Seattle. It should be no surprise that plumber Seattle or plumbing services Seattle will be among the top terms people are using to find local plumbers. 
Those terms help boost your rankings when correctly placed in website content, blogs, and technical SEO elements, like page titles and meta descriptions (more on that in a minute).
You can use several tools to find the keywords that people are using to find your site. Since you already have a Google Business Profile, you can leverage Google's search data.   
Login to your Google Ads account. You'll find a Keywords Planner. This tool will give you the data to determine the right keywords to get in front of the right customers. Though it is meant as an ads tool, it still gives you a good idea of how popular terms are. Here is what the data looks like.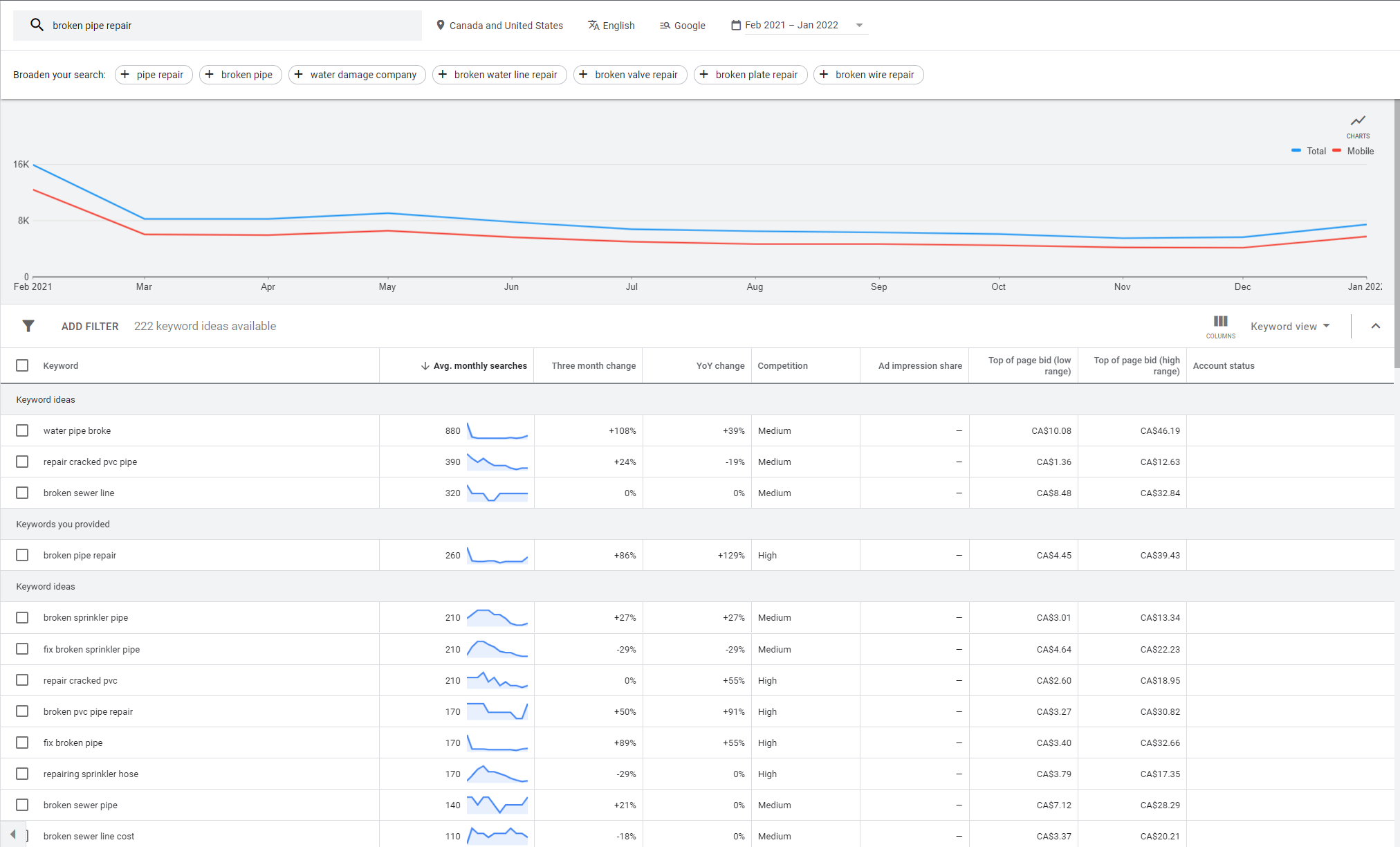 Google Trends is another free tool that will give you a sense of how popular terms are over time. It allows you to compare two keywords, helping you determine the right word when comparing two options.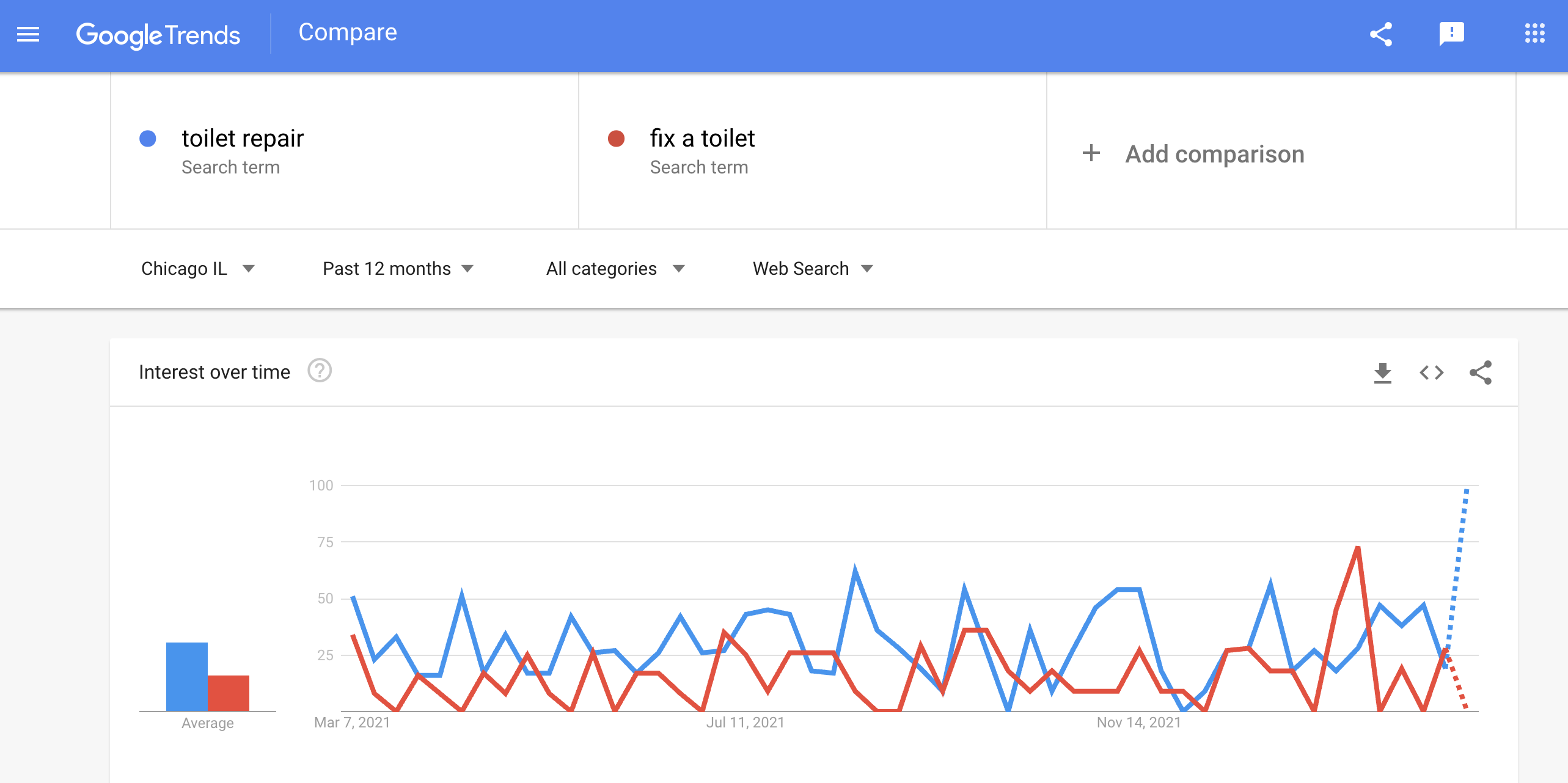 Update Your Page Title & Descriptions: Now that you have the keywords that your clients are using to find you, it's time to put them to use. There are some technical SEO elements, like your page title and meta description, that you can write to ensure they are optimized for Google and other search engines.
You may not have heard the term page title and description, but you have definitely seen them if you have ever used Google.

Create titles and descriptions for each page. They tell the user what to expect from the page and increase the likelihood of someone clicking through to your site. 
Your Content Management System (CMS), like WordPress, may auto-generate content for these, but you will want to write custom content that will appeal to your users. Look for the SEO section of the CMS to enter the information.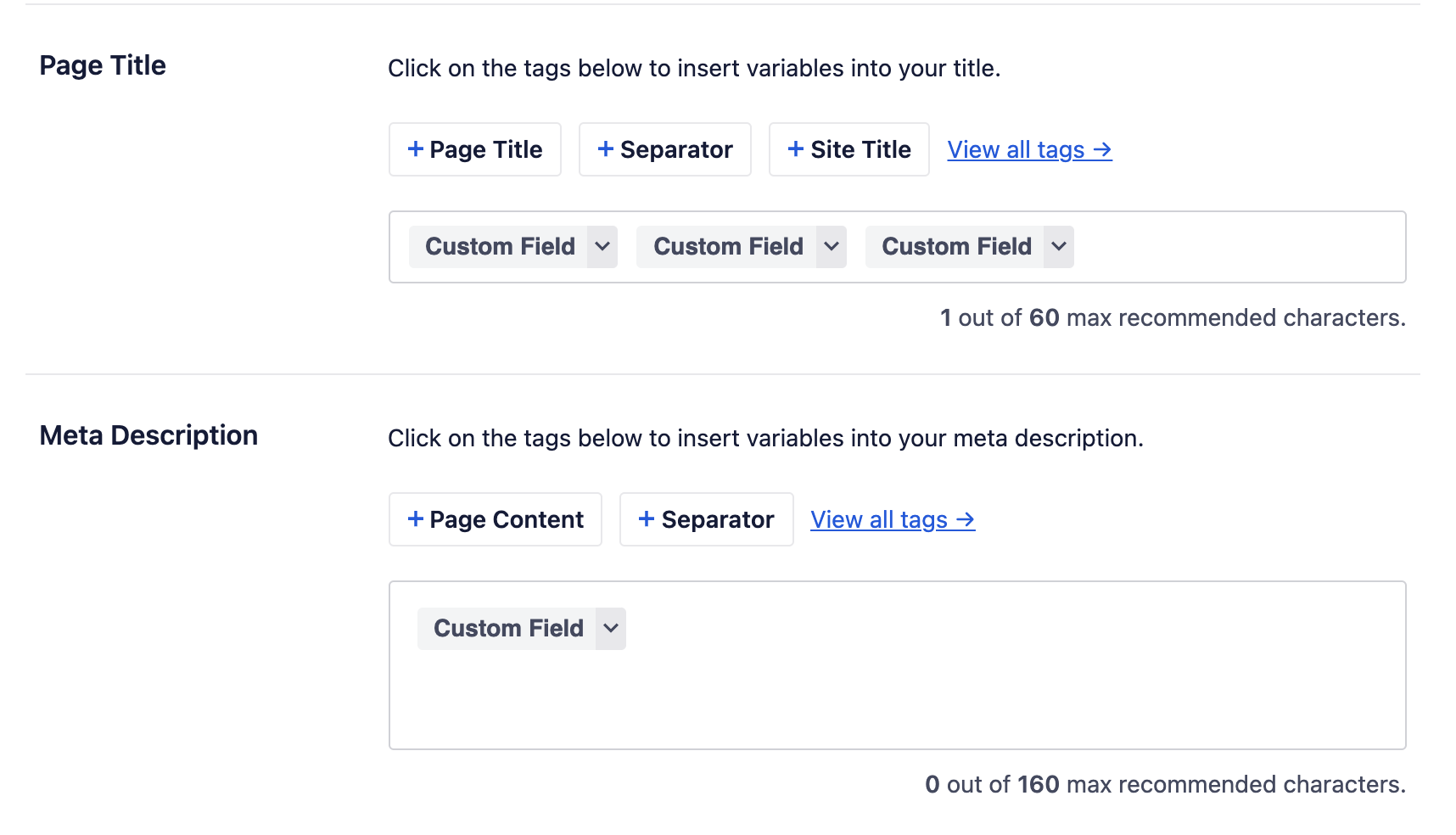 Add Alt Text To All Your Images: The primary function of alt text is accessibility. It is an HTML element that allows people with a visual impairment (using a screen reader) to understand what each image on your page is about. You should add them for that reason alone. It makes your site accessible to more people. 
The secondary benefit of alt text is from an SEO perspective. You can add applicable keywords to the alt text to signal to Google that your page is highly relevant. 
Let's walk through an example. You may have a picture like this on your plumbing site.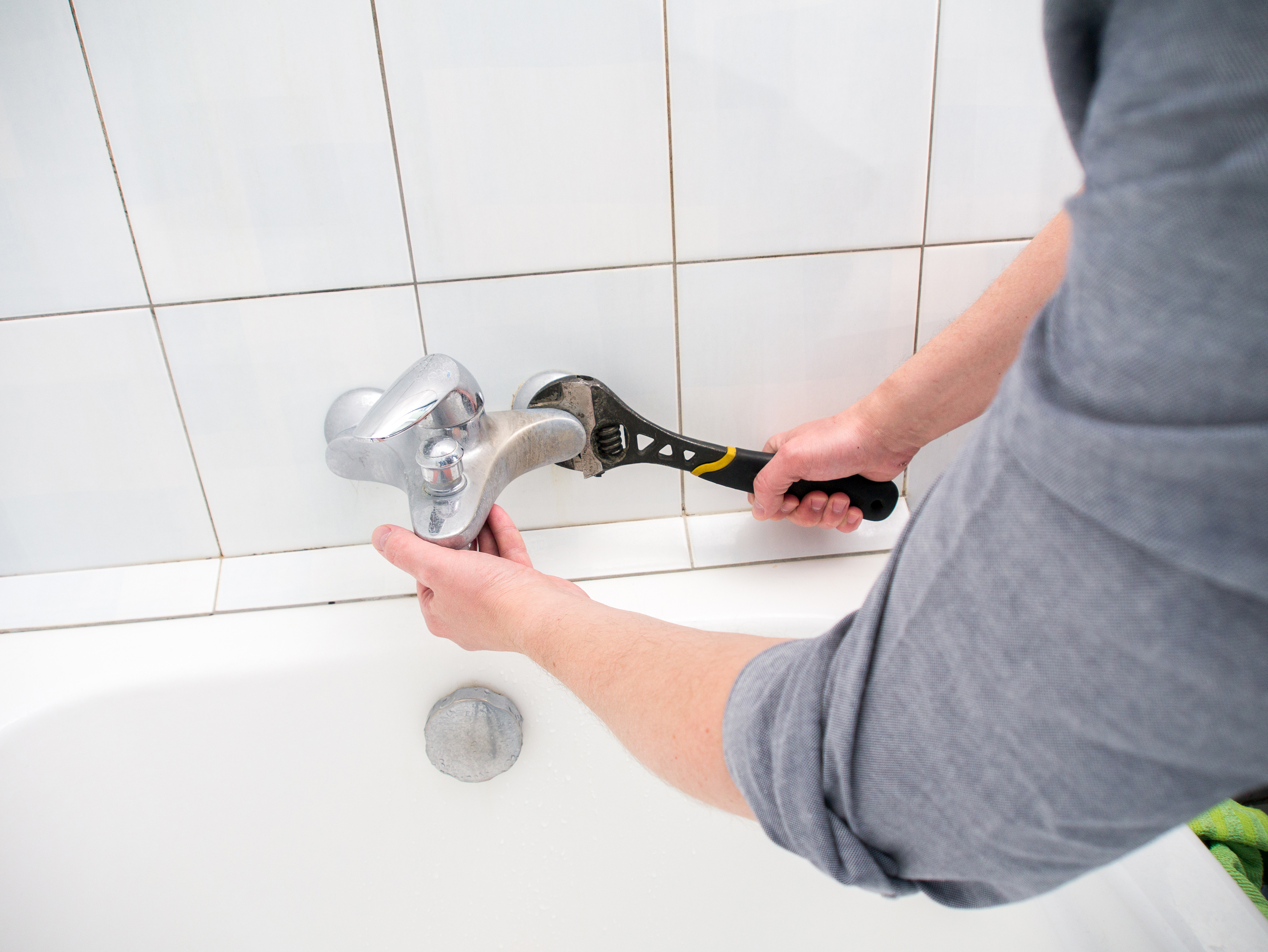 You want to describe what is happening while also using keywords. In your research, you have found that leaking faucet repair was a top keyword to target. So, your description can include that term since it is relevant to the image. 
Your alt text could be, "Plumber repairing a leaking faucet in a bathtub". This uses your keywords and describes the image. Now, do this for all the images on the site. 
SEO is a Long-Term Play: SEO is a process. Having a site with relevant keywords is an essential step, but it is an ongoing process that requires management and maintenance to keep your website running smoothly and your content relevant and engaging. 
Google wants to bring the most relevant and up-to-date content to users. If you provide this kind of content, Google will reward you over time. There is no silver bullet for jumping to the number 1 spot. You need to earn it.
We can help: Feeling a bit overwhelmed about SEO or unsure where to begin? Don't worry, you are not alone. This stuff can be complicated. We're here to help and happy to discuss some quick-win SEO strategies that have proven effective for our plumbing clients.
3. Minimalistic Intake Form
A successful local SEO strategy will increase traffic to your site. You're going to want a plan to convert those website visitors into leads. 
A typical website converts 2 out of every 100 visitors into a qualified lead. Wouldn't it be nice if your site had a higher conversion rate than the standard site? How about going from 4 leads per month from your website to 10 per week? We've done it for other skilled trades.
Your typical sales journey may start with a phone call. During that call, you take the time to get the essential details, like their name, address, plumbing needs, budget, and anything else you need to move the sales process along. 
Your typical clients don't want to spend all their time on the phone. They are busy. They want to text or email. A multi-step intake form kickstarts that process. 
Imagine if you had all that information in hand for that first phone call? Think of all the time it would save you. Well, that is exactly what a digital intake form can provide your business. They also convert really really well.
When preparing your interactive project intake form, there are a few best practices to keep in mind.
Choose the Right Software: An interactive project intake form that allows your target customers to specify the products and services they need. Our clients have benefited from using a platform like SurveySparrow to give their customers a better intake experience. 
Here is an example. It is the intake form we use for our clients.  If you want to see how effective it is (and connect with us), give our intake form a try.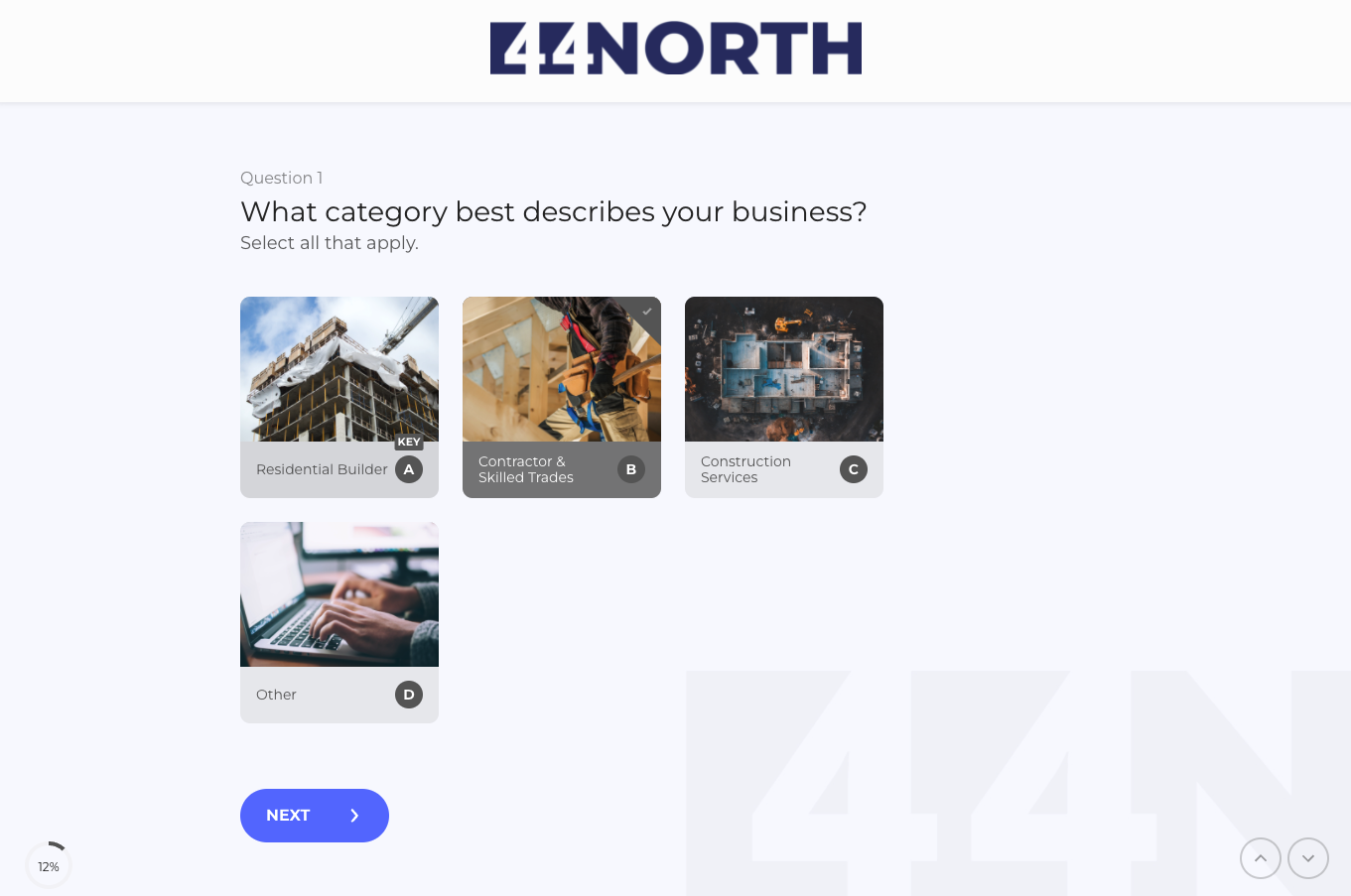 Get the Right Information: You can go beyond their name and phone number. Build trust by showing leads that you are there to help them. Plus, if they take the time to go through the intake form, they are a more serious lead, and you won't waste time chasing the wrong leads. 
Ask for information that will help you serve them better. What service they are interested in. Avoid questions that aren't relevant. Get the information you need to start the sale process, but keep it under 2 minutes. 
You can set up an intuitive process where questions are conditional based on previous answers. It allows the client to feel like they are on a tailored customer journey, adding a layer of professionalism and customer service to your business.
Our form has just nine simple questions and provides everything we need to know to start the conversation. 
Add a Progress Bar:  Take a look at the bottom left of the picture above. Notice the status, giving the user an instant update of their progress. With any multi-step intake form, include a progress bar to let users know a clear end is in sight.
Create a Personalized Response: Make sure to thank them when they have completed the form. Create a thank you page that lets them know what they can expect next. Here's what we do. Short, simple, and gives next steps.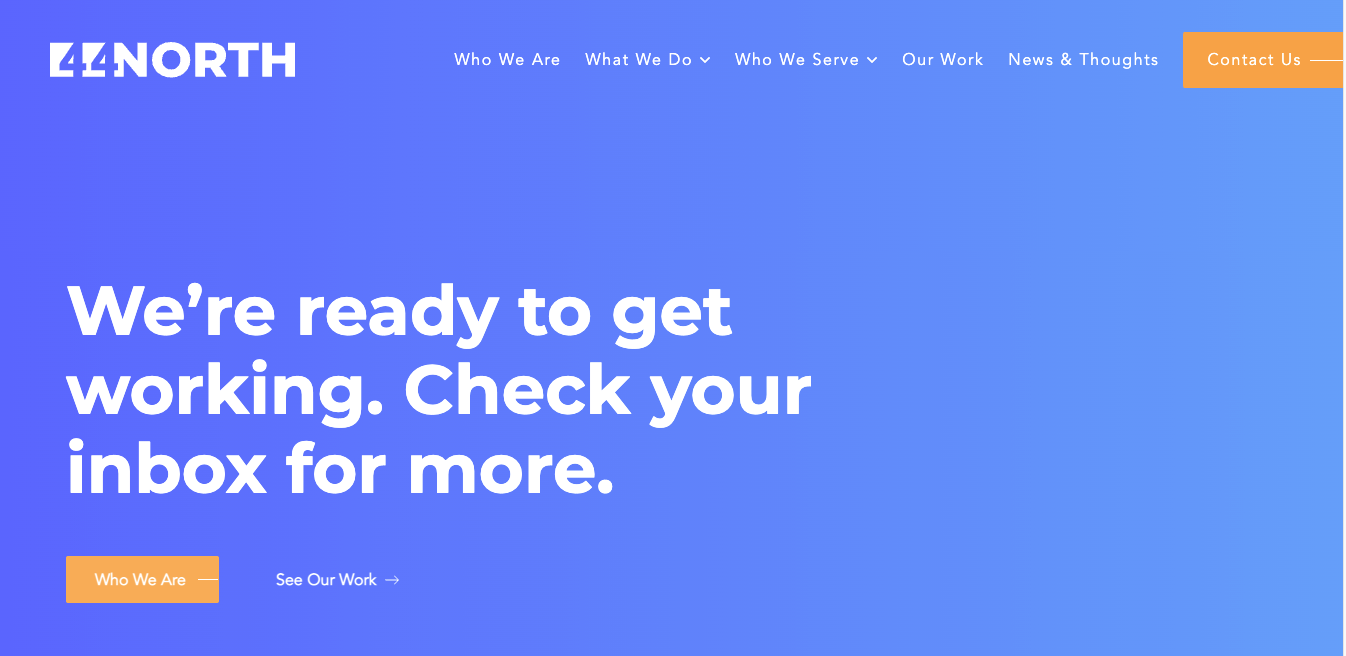 Integrate the Software with Your Sales Software: Automated tools allow you to incorporate the intake form seamlessly into your website. From there, an integration will enable you to have all that information go into your sales software. It allows you to hit the ground running when making the sale. Active Campaign makes it easy to integrate with Salesmsg, for example. 
If you want to experience the intake form process and talk to us about your plumbing company, you can use our automated intake form.
4. Automated Messaging
After a potential client fills in that intake form on your website, you can respond to them instantly with the help of marketing automation.
Automation is essential because your customers want to get the conversation started. If you don't contact them first, they may be lost. In fact, 50% of leads will work with the organization that contacts them first.
But, you're busy and don't always have time to call leads back right away, especially if you are also on the job site. That is where automation comes into play. 
Imagine if once a prospective client filled out your intake form, they received an automatic email or text message to get the process started? With tools like ActiveCampaign, your business will give your clients an incredible customer experience, standing out from the crowd.
Here is an example of what a text message looks like. It is automatically sent after an intake form is filled out. You can customize the message to various scenarios, including if the form is filled outside of business hours.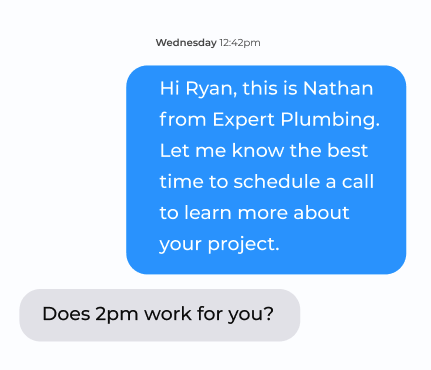 Set Up an Automated SMS and Email: You can trigger an automatic email or text message to thank clients when they fill out the intake form on your site. It is an instant, customized response that gives them confidence in your business. 
 It reassures them that someone will reach out to schedule a service visit, giving them the confidence that your plumbing business will take care of what they need. 
It is good for business. The average open rate of a text message is almost 98% with the average person checking their text messages within three minutes. So you know they will get it and open it. 
Keep Your Sales Team in the Loop: Automation will ensure that your leads are guided through the process seamlessly while keeping your team in the loop by sorting leads and receiving notifications when new leads come in.  
Marketing automation will automatically notify an appropriate sales rep when a form has been completed. Your sales rep can then reach out to the lead directly.
Software Integrations: Email and SMS are just one aspect of automation. If you are looking for more extensive automation, including custom software integrations, we can help you automate manual processes and improve operational efficiency. 
5. PPC Campaign
You want leads. A pay-per-click (PPC) advertising campaign is an efficient, cost-effective way to do it. 
When people talk about PPC, 99% of the time, they are talking about Google Ads. Google Ads allow you to target a specific audience to generate quick results while providing control over your marketing budget. 
Google Ads typically generate two dollars for every dollar spent. We've helped plumbing and HVAC companies see a $4.52 return on every ad dollar. They effectively generate leads quickly, unlike SEO which is a longer-term play. 
The benefit of PPC over other forms of paid advertising is that it only costs you when someone clicks on your ads, making it a cost-effective and results-driven form of marketing. 
There are some simple things that you can do to make your Google Ad dollars go further, even on a small budget. Here are some that you can implement.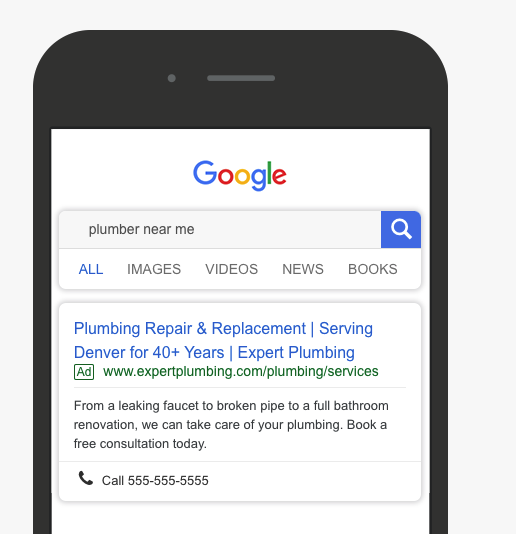 Be Strategic: What are your goals? Do you want to drive more leads to an area of your business that sees the most significant return on investment? Perhaps your commercial plumbing team needs more leads? 
If you have a smaller budget, that is okay. Just be sure to focus on your priorities. Target the most profitable demographic, narrow down your service area, and focus on the main keywords you want to target.
Local Service Ads: Local Services Ads are ideal for getting in front of local searchers. This is essential for a plumbing business. Local searchers want your services, and if it's a repair, they want them fast. With a simple click on your ad, they'll be calling you. 
An ad like this is essential because 60% of smartphone users have contacted a business by phone using the search results page.
Send Them to the Right Place: Google Ads sends the user somewhere. Be sure that you're sending them to the right page. You can create a high-converting landing page for specific campaigns or send them to the right page on your existing website. For example, a faucet repair ad targeted to residential homeowners should send them to your residential repair service page and not a commercial page. They want to be led to the right place. 
Adjust Your Ads: PPC works well for small businesses because you can easily track your results, make changes, adjust your budget, and gain more business quickly. Dig into the data, look at what is working and what's not. Adjust. Monitor. Repeat. 
Google Ads can feel overwhelming. We are here to support you. We develop a marketing strategy, create the ad content, monitor and report on results. It is a fully transparent process to see where your ad dollars are going and measure your return on ad spend. 
Digital Marketing Support for Plumbers
Like all small to medium-sized businesses, plumbers need to have a solid online presence. It is what your customers expect. Ignoring the internet is no longer an option. 
If you want to achieve both long and short-term growth with your plumbing business, you need to make sure you utilize as many of these digital marketing strategies, preferably all of them. 
If you have made it this far, you're serious about marketing your plumbing company. So are we. At 44North, we specialize in supporting plumbers and other skilled trades to boost their digital marketing presence. From creating a professional website to PPC to SEO, we are all about lowering customer acquisition costs, improving operational efficiencies and driving return on investment.
If you're ready to get working, so are we. Contact us today.