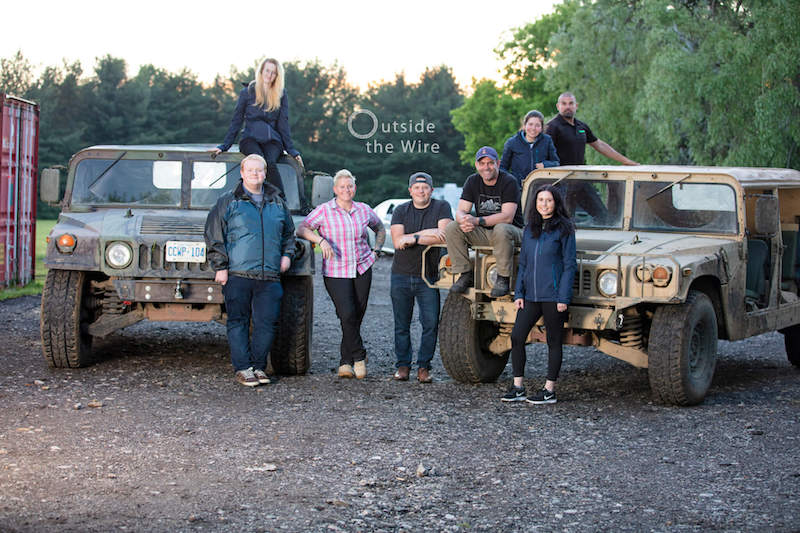 "Outside the Wire" is a military term that refers to venturing beyond the confines of security. In our case Outside the Wire is a leadership training program that focuses on emotional intelligence, self awareness and improving team dynamics through communication and self-confidence. The program is designed to push teams outside of defined comfort zones, while in a safe to fail environment. By working together through these challenges the result is vastly improved team dynamics and personal growth.
When we began a seven-hour train ride to Brockville, we really didn't know what to expect. Captured on 24 frames of a disposable camera, this is the story of 44 North going Outside the Wire.
Welcome to Beautiful Brockville, ON
As I said, we left London feeling pretty apprehensive. Two hours in and we stopped for these BOMB chicken sandwiches (this is shameless and unsolicited plug for Union Chicken, the sandwich was THAT good.)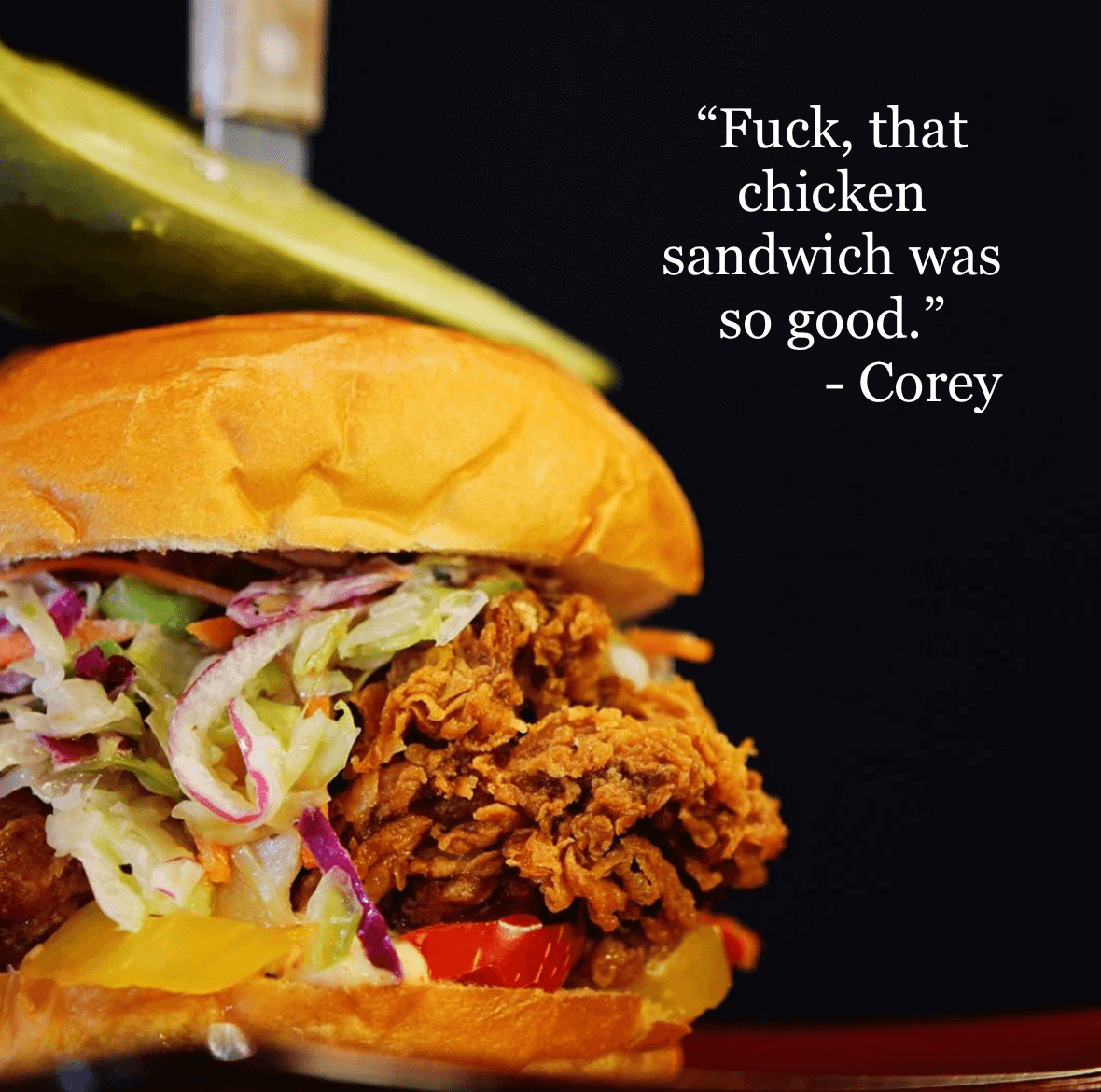 Our train from Toronto was train number 44 which was interpreted as a "good sign." However, when we arrived in Brockville, it was raining and miserable and we were severely underwhelmed (when I say "we" I mean everyone but Corey). It did not bode well for the next two days.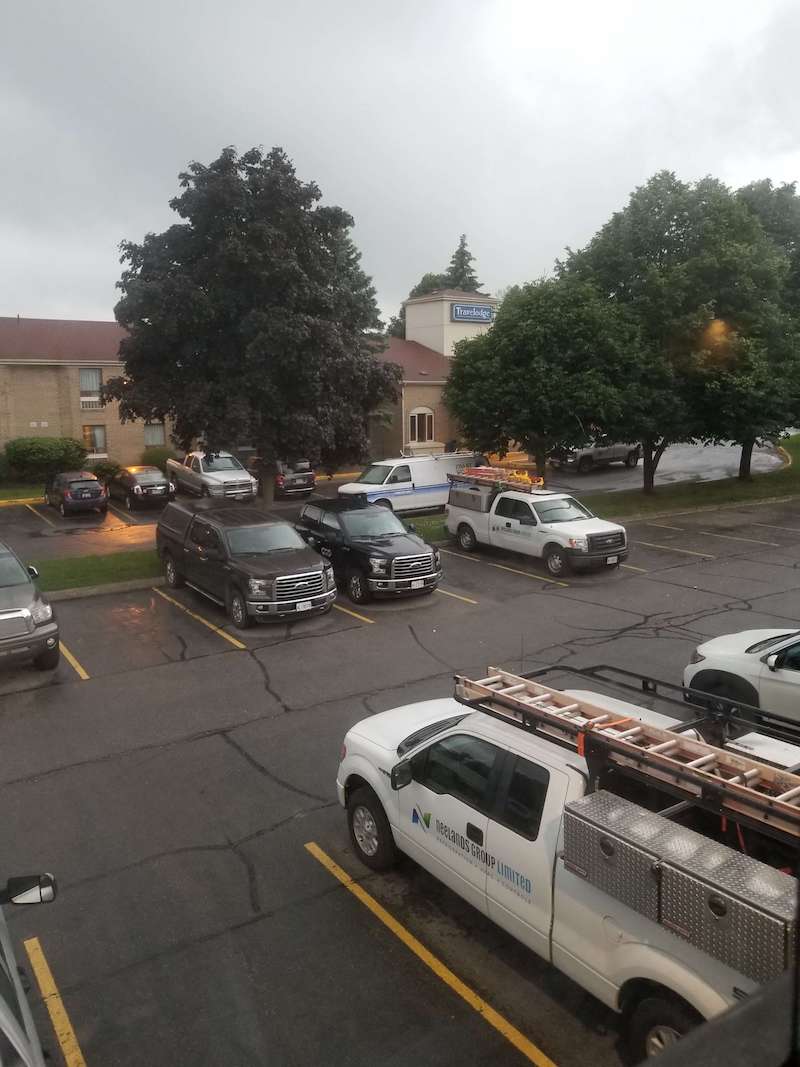 I mean really, look how SAD Brockville was that day.
As the afternoon progressed, we were introduced to several of the people we would be working with over the following three days. Outside the Wire is run by some of the most intelligent and hilarious people we've ever had the opportunity to work with. And most of them volunteered their time to be there and make us better humans. Right off the bat we had a lot of laughs and subsequently went to bed feeling a little better than we had hours earlier.
Outside the Wire: Day One
Day one began at 5 am, which was… unpleasant. But I digress. Day one began with the spider web challenge. The spider web challenge, for those reader's that are unfamiliar with the task, is an exercise where a group of people have to pass through a rope "spider web" one at a time, but each gap in the web can only be used once. So you may end up crawling through the dirt or if you're VERY LUCKY, people pick you up and send you through the top. It's definitely not terrifying. Each company split themselves in half and had to go work through the challenge with a bunch of strangers. It was also raining. The first lesson of Outside the Wire: write down the instructions.
Here's Jill with the spider web when the sun was out. But you get the idea.
After an hour of navigating the web we got to come in from the rain for classroom time. We sat with our fantastic mentor Erica to discuss the things we felt we wanted to improve on in order to make us stronger leaders individually, but also help us function better as a team. It's a really interesting experience to sit in a room with your colleagues and your boss and have an open discussion about what people perceive to be their weaknesses and hear about how they want to improve on them. Taking the time to outline our goals set us up for the ensuing field training which, spoiler alert, was the real deal.
Just Out for a Rip
Essentially the first day of Outside the Wire is meant to familiarize participants with different situations, so that you get a little taste of everything. At this stage we were feeling a little apprehensive about the day's events and coupled with the fact that is was STILL overcast and rainy, things were still looking less than optimal.
That being said, we got out into the field and within the first 2 and half minutes all that faded away. Our first field training activity was humvee driving which was like Splash Mountain on steroids, multiplied by 100 million. Driving around belted into a vehicle with no doors, ploughing through puddles that were 4 feet deep was the best possible program introduction. We got soaked, and muddy and felt like we were in Jurassic Park and shouted "JUST OUT FOR A RIP" about 46 times, and it was awesome.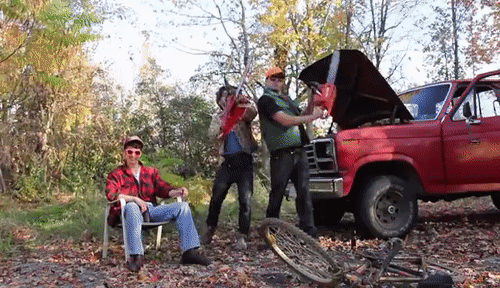 We got muddy and we got soaked and learned that garbage weather is the best weather for humvees. You don't ride Splash Mountain to stay dry, right?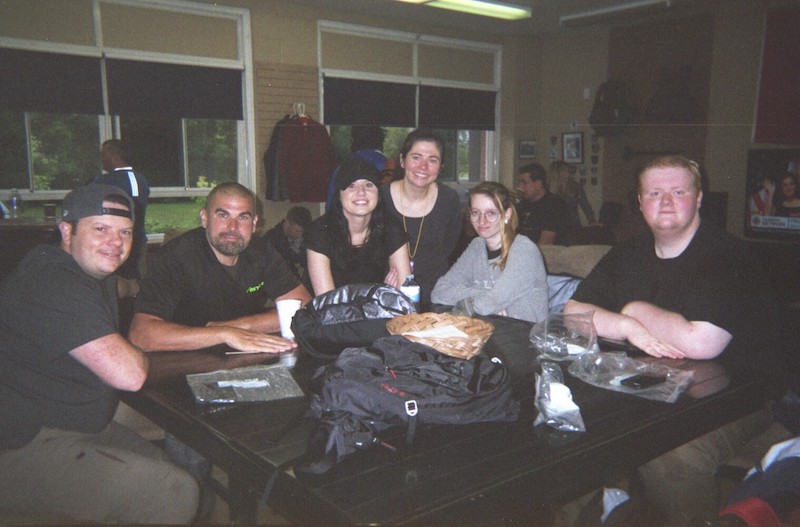 Following a luncheon feast of military rations (sarcasm implied) our next activity was rappelling down the side of the building. Seriously. This is where we saw some members of our team really shine. Specific shout out to our duo of graphic designers, Adriana and Scott who BOTH overcame a fear of heights and went not once, but twice down over the wall. Corey showed off and Erin wiped out while pretending to be Batman and unfortunately neither incident was captured on film.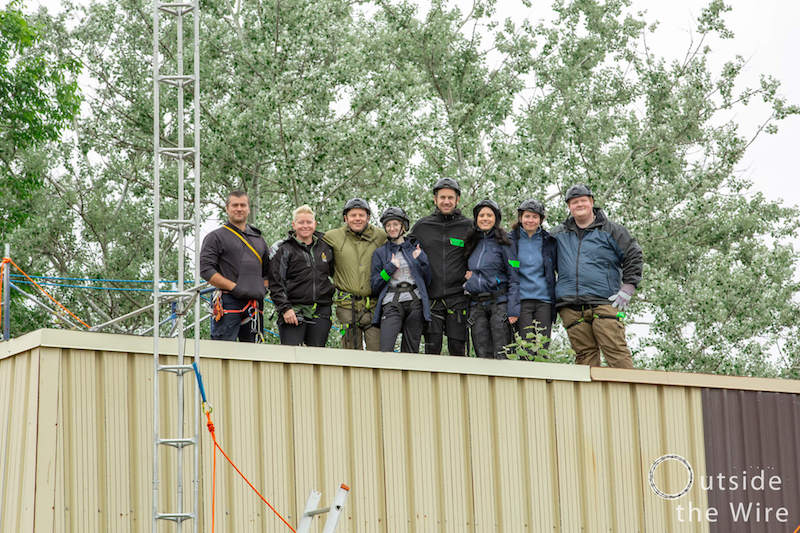 We followed up our badass rappelling with even more badassery on the gun range. The gun guys were the best guys. One of our instructors was basically James Bond and his likeness was in a video game (a freaking video game) and our other instructor was named Ace (legit, that was his name). A crazy amount of patience and discipline was left out on the range which resulted in some pretty fine target shooting.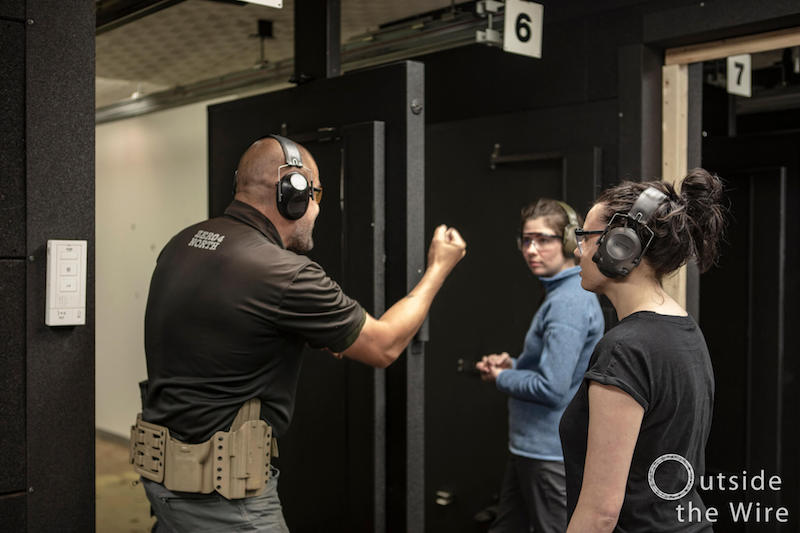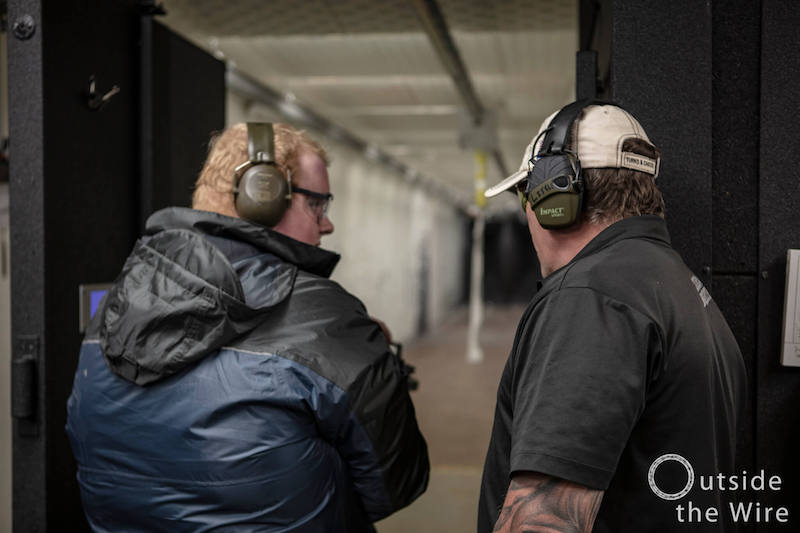 The range marked the conclusion on practical field training, which we were okay with because we were pretty exhausted (don't judge us, we sit for a living). Off we went to inspect our rustic overnight camp lodgings and some of us learned a very valuable lesson: it could be worse.
While the three of us 44 North gals got to sleep in what was basically an elementary school portable in the woods, it was at least dry (it also had about 76 wall outlets, and yet no electricity). At least we weren't sleeping in THIS.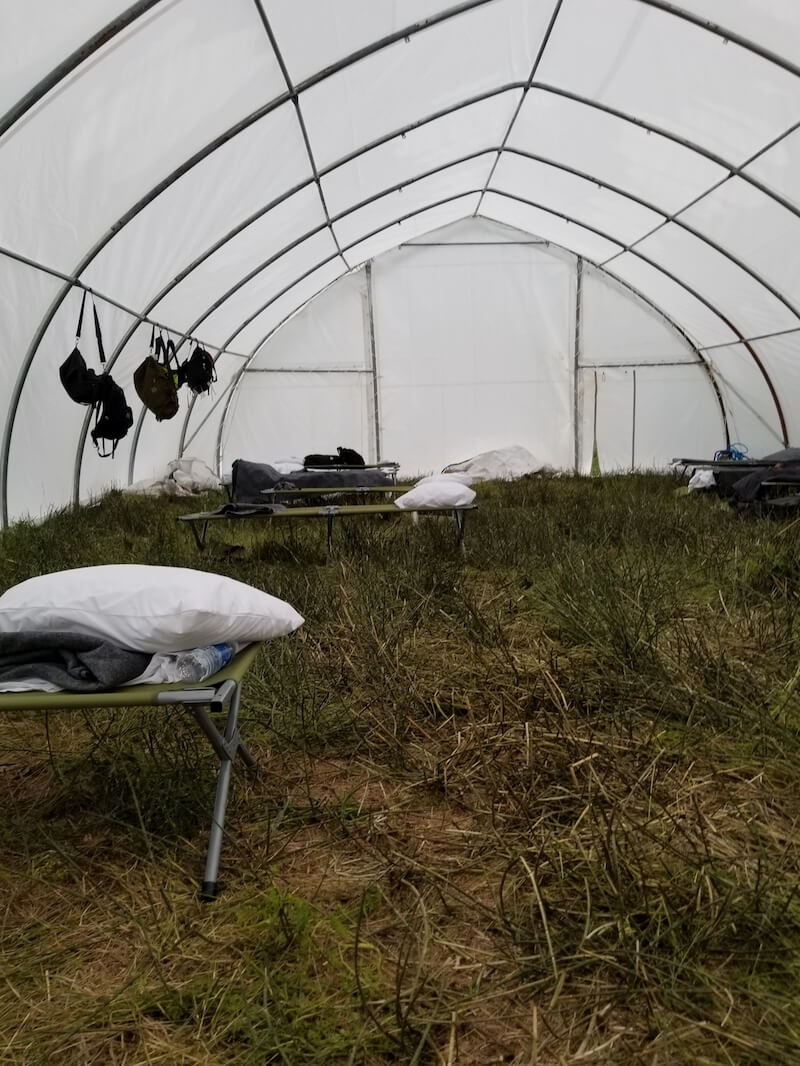 Oh boy.
Jill and I went to borrow the bug spray from Corey after we had settled in, walked into what was basically a greenhouse tent, and we probably would have fallen on the floor we were laughing so hard, except we didn't want to roll around on what we eventually termed "Canadian bamboo." Even as I write this sentence, I'm still laughing.
We had a team debrief about our day and reflected on what we had done well throughout the day and we were all pretty happy with ourselves overall. We ate about a pound of candy that we had brought with us, and got a sneaky clue about what the next day would be like.
The day concluded with several hours spent standing around the campfire. It speaks volumes to the atmosphere at Outside the Wire that it rained on-and-off all evening and there was nowhere to sit, but people stood around the campfire chatting until well passed lights out.
Competition Day
Let me start the recollection of competition day by telling you about the WORST NIGHT "SLEEP" I have ever had in my life. This feeling was mutual across the board. Before we had left London, we decided as a group that sleeping bags were just going to take up extra space. NOPE. It was only 13 degrees during the night and as our new pal Nikos colourfully put it, we basically got a piece "of kids felt that they cut letters out of" as a blanket. So our team got a second 5AM wake up call after MAYBE 34 minutes of sleep. Delightful.
But the rain had stopped and it actually turned out to be a really nice summer day. The day started with a very intense debrief of the competition events. Ahead of the official start, each team had the opportunity to develop a plan and ask questions about the tasks before us. We split up to gather as much information as we possibly could, which was incredibly successful because it gave each of us a chance to lead as we went from task to task.
During our first task we had to cross a creek in a little boat and find buried projectiles and fire them in a trebuchet. Nobody fell in the creek but this was the task that had the most swearing.
Then came spider web challenge, volume two. It was way more intense than the previous morning because we were being timed. We also had to go through the web more than once, each time with a different set of rules, like the "No Talking" version.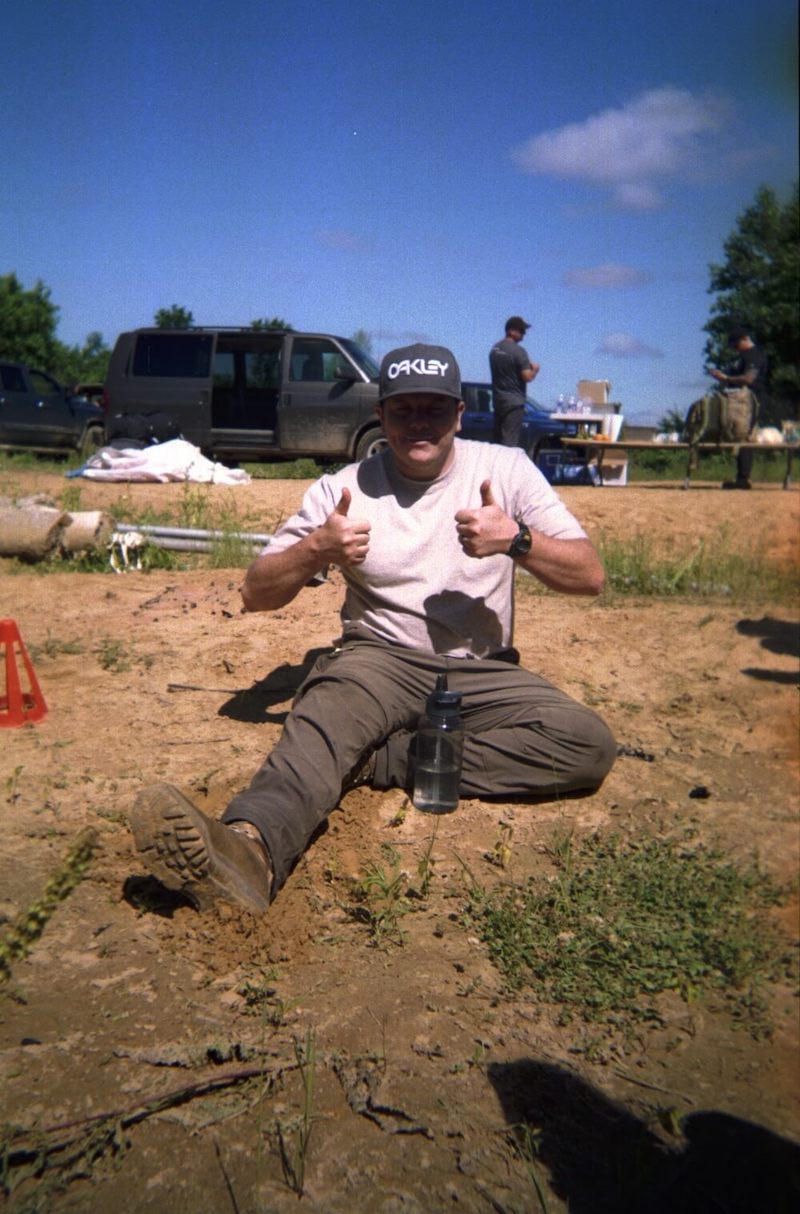 Humvee Challenge Volume two was an interesting experience to say the least. Have you ever been a passenger in a car when the driver was blindfolded? Probably not, because it's insane. But we did it! We blindfolded the driver and it was the passengers job to read the map and be the navigator. BUT the navigator couldn't speak. Behind the navigator sat the communicator who yelled left, right, lefffttttt etc, to the driver. BUT the communicator couldn't hear. The communicator had to take directions (via hand gestures) from the navigator sitting in front of them. It sounds crazy (and it was) but we made it through unharmed and it was WITHOUT QUESTION the most stressful situation I have ever been in in my life. I don't drive a car, I don't even have a license. Telling a humvee driver how to back into a parking space is not something within my capabilities.
Lastly came the wilderness challenge: we were out of the frying pan and tryna start a fire. Under the incredible instruction and guidance of Dave and Shari who had lived off the grid in the wild interior of British Columbia bush for seven years, I learned how to start a fire using a Bow drill technique. One thing I forgot during the lesson though: of course the experts make it LOOK easy. I got some gnarly blisters and I got pretty close to making a wee little flame but just couldn't make it happen in a timed scenario. Corey and Jill built a kickass shelter based off of a terrible diagram that I drew for them, and Adriana used a stick as a boomerang to kill a bunch of stuffed animals. Don't worry, it was all part of the wilderness curriculum. WE ALSO ATE BUGS! Really we did!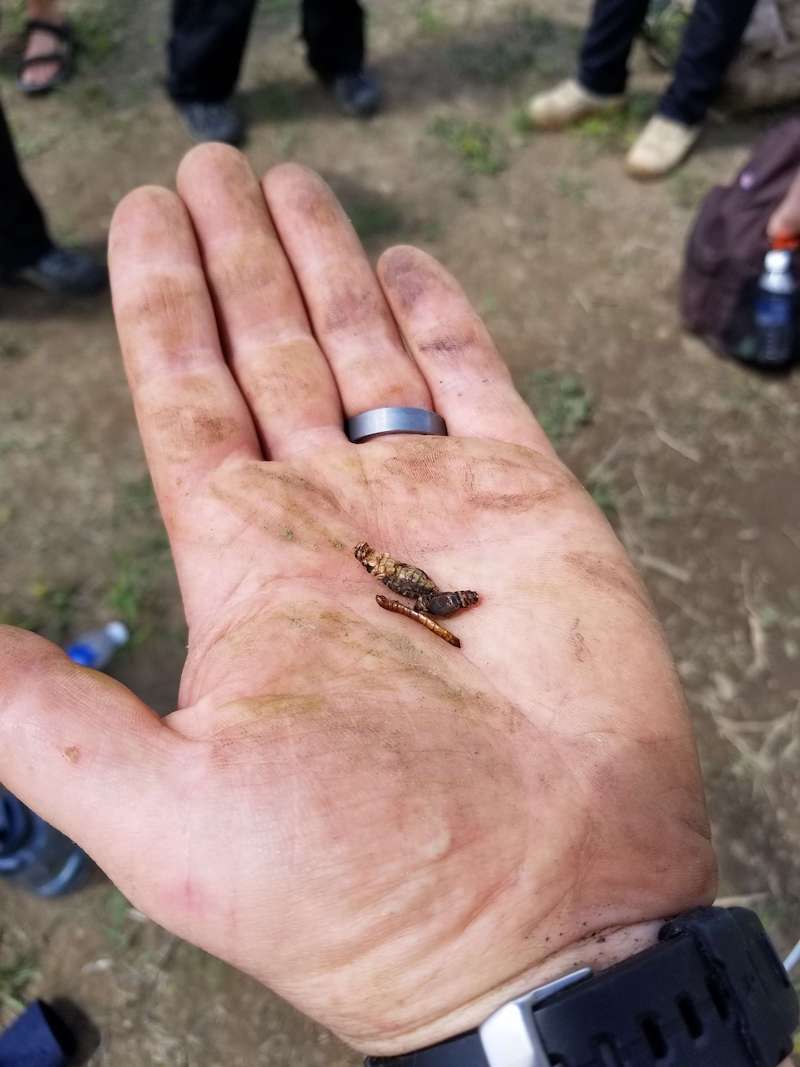 "Tastes just like my chicken sandwich" – Corey Shelson
In the end we didn't win the competition (objectively speaking) but we learned a lot about ourselves and each other. Competition day concluded with a mess dinner with good times, good wines and a little bit of guitar playing (did you know Corey can sing?). The following morning, we all got a copy of Mark's book Clearing The Way, and we got all packed up, said our goodbyes and managed to swindle ourselves one last humvee ride to the train station.
In the weeks that have followed our adventure at Outside the Wire, I think it's fair to say that the progress we made continues to be evident in our workplace dynamic. We communicate better with one another, sharing our progress and delegating tasks more efficiently, which has ultimately created an overall decrease in stressful situations (not that were that many in the first place). We have accomplished a LOT since coming back and every project has gone off without a hitch since. So thanks for that Mark.
In hindsight, not knowing what to expect, the shitty weather and our apprehension made the experience so much better. Our expectations really had nowhere to go but up. It was really great to get off our butts, get out of the office and push ourselves to understand and evaluate what we think our limitations are. And then smash the limitations into a billion tiny bits. I think the best observation about Outside the Wire that I can make is that it's the people you meet can make all the difference in the world. We met the best people, many of whom had volunteered their free time to make this happen for us. We had a riot of a good time and we are so grateful to Mark and the entire OtW crew for getting us to go. It was soooo chimo.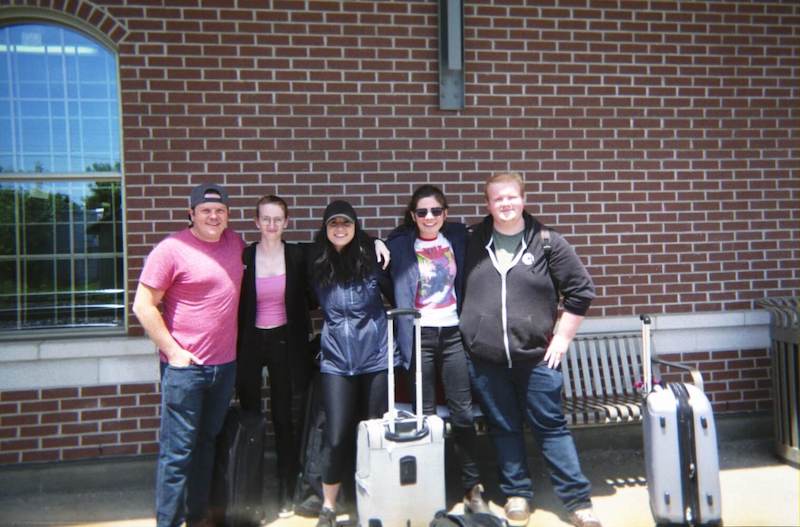 The End!
Want to see us in action?
Check out the video below!